Burgess Cotillion Program
Why Cotillion?
Where can you use these manners and dances? At weddings, bar mitzvahs, the country club, or on a cruise. Any place that has music and a dance floor!
We at Burgess Cotillion believe that our program will give your children self-confidence that will benefit them for the rest of their lives.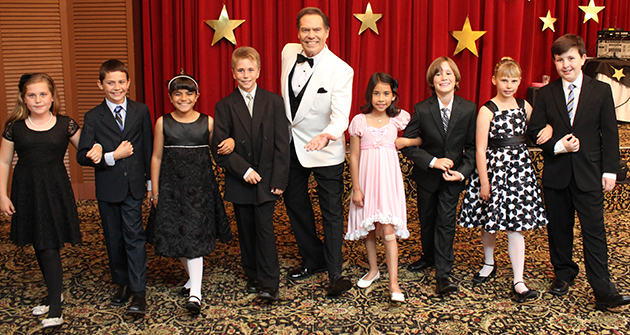 What is Burgess Cotillion?
Cotillion is four things:
1] We teach your children to dance.
2] We review some manners and teach new etiquette.
3] We encourage the children to make new friends.
4] We stress having fun in a structured environment.
Now let's break these four things down:
Dancing
We teach the three basic ballroom dances – waltz, foxtrot and swing – every season. We also teach Latin dances – chacha, samba, and meringue one year, alternating with salsa, tango, and rumba the next. We also teach current popular dances and classic novelty dances such as the Charleston and polka, or dances from the 50s, 60s, and 70s.
Manners & Etiquette
We teach our students how to introduce themselves, how to go through a reception line, how to ask a lady to dance, and how to sit properly. At one class, a table is set up for a demonstration on table manners. We also cover telephone, cell phone, and computer manners.
Friends

Students from many different schools attend Burgess Cotillion. So your children will be meeting new people. Our aim is for everyone to feel comfortable in a social situation; so we teach how to start a conversation and make proper introductions. We want our students to respect themselves and respect others.
Fun
We have dance contests, games, prizes with a ticket drawing at the end of every dance, and, of course, refreshments!
Dances
Burgess Cotillion has eight dances a season. Three of them are fun themes. We always have a Halloween party complete with a costume parade and contest. Other themes may include Hawaiian Holiday, Dancing at the Movies, Country Western, Dancing Around the World, or the Fabulous Fifties At our final dance each season, we invite all parents to participate in our mother-son or father-daughter dances. We also have our annual waltz contests where trophies and prizes are awarded to the winners. We have experienced teachers circulating around the dance floor throughout each class. We also are happy to have Junior teachers, who are all former students, helping your children learn new steps. Parents are encouraged to volunteer as chaperones.
Dress Code
Boys: Coat and tie, hard-soled shoes, no athletic shoes.
Girls: Party dress or skirt and blouse and white gloves. No pants, bare midriffs, or strapless, please.
All: Please, no levis, levi skirts, or sandals. Exceptions are for theme dances only and will be announced when appropriate.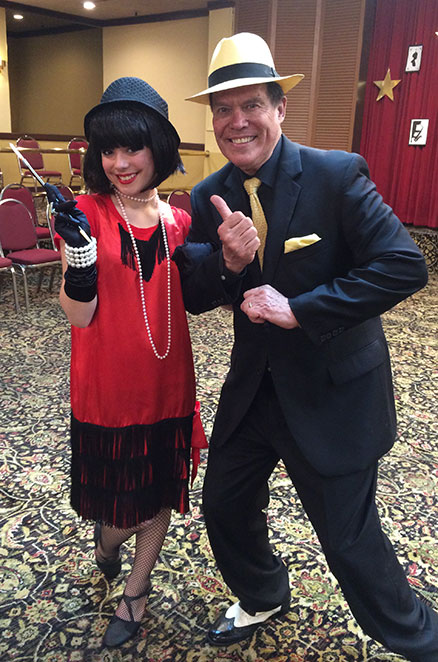 Instructor
Burgess Cotillion classes are conducted by Mr. Bobby Burgess, Cotillion Master. Mr. Burgess was an original Walt Disney Mouseketeer, the ballroom dancer on the weekly Lawrence Welk Show, and a student and instructor of the legendary Call's Cotillion in Long Beach, California. Mr. Burgess brings his lifetime of dancing experience to his cotillion classes.
Boy Girl Ratio
Our goal at Burgess Cotillion is to have an even ratio of girls to boys so that every girl has a partner for every dance. As the classes fill up, it may be necessary to place girls on a waiting list with that balanced ratio in mind. We will contact you if your daughter is placed on the waiting list. If you find a boy who will register in the class along with your daughter, she will bypass the waiting list and be enrolled. You may also leave her on the list, and as boys are enrolled, girls will be called in list order.
Cotillion Classe Structure
Third, Fourth & Fifth Grades
4:30-6
Social, Folk
and Ballroom Dance
Sixth, Seventh & Eighth Grades
6:15-7:45
Ballroom and Current, Popular Steps
Ninth through Twelth Grades
8-9:30
Ballroom and Current, Popular Steps
Parents are Encouraged to Observe
Parents are always welcome at Burgess Cotillion. Please quietly supervise smaller children who may accompany you so that dancing students can hear instruction from the stage. We appreciate your cooperation. Burgess Cotillion may occasionally photograph or videotape classes for promotional purposes only.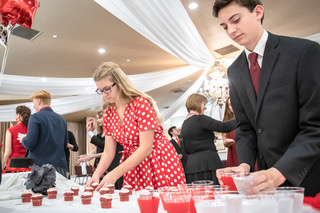 Location
Join us for our upcoming season!
The Grand – Catalina Room
4101 East Willow Street
Long Beach CA 90815

Fees
For the coming season of eight classes, the fee for Burgess Cotillion early registration is $225 [deadline is September 1, 2022]. After September 1st, the fee for the season is $260. [see our schedule and registration]